VVA Chapter #1069 Presents Cash Donation to TCVVM: [posted on: 6-12-2013]
On Thursday May 23, 2013, four members of Vietnam Veterans of America (VVA) Chapter #1069 from El Campo, Texas presented a check to Rep. Wayne Smith, TCVVM legislative sponsor. Accepting the donation for the monument along with Rep. Smith were TCVVM Chairman Robert Floyd, Treasurer John Miterko, and TCVVM Executive Committee member Richard McBride. (story credited to tcvvm website)
Photo below was taken at the Capitol in Austin Texas on May 23rd, 2013. It shows Leonard Sternadel, President of VVA Texas Chapter #1069, presenting a $1000 check to Wayne Smith, the TCVVM Legislative sponsor.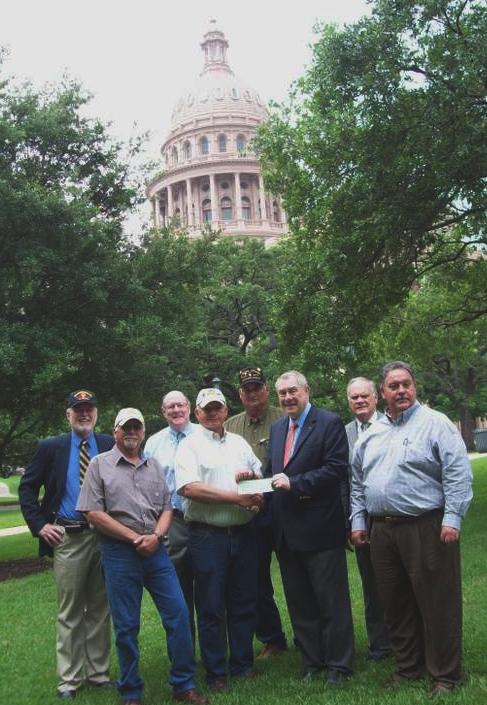 From left to right in above photo:
1- John A. Miterko (Legislative Liaison & TCVVM Treasurer)
2- Ron Miller (VVA Chapter 1069 member)
3- Robert Floyd (Chairman of the TCVVM)
4- Leonard Sternadel (VVA Chapter 1069 President)
5- Frank Kulcak (VVA Chapter 1069 Vice-President)
6- Wayne Smith (State Representative & TCVVM Legislative Sponsor)
7- Richard McBride (TCVVM Executive Committee member)
8- John Steelman (VVA Chapter 1069 Secretary/Treasurer)
The actual story can be found in the News section of the TCVVM website - see link below...
Chapter receives Thank-You letter from TCVVM Chairman: [posted on: 7-3-2013]
In June our Chapter received a generous Thank-You letter from Robert Floyd, Chairman of the TCVVM (Texas Capitol Vietnam Veterans Monument). See image below. Several Chapter officers traveled to Austin in May of this year to give a cash donation ($1000) to the TCVVM on behalf of Chapter 1069. See complete story above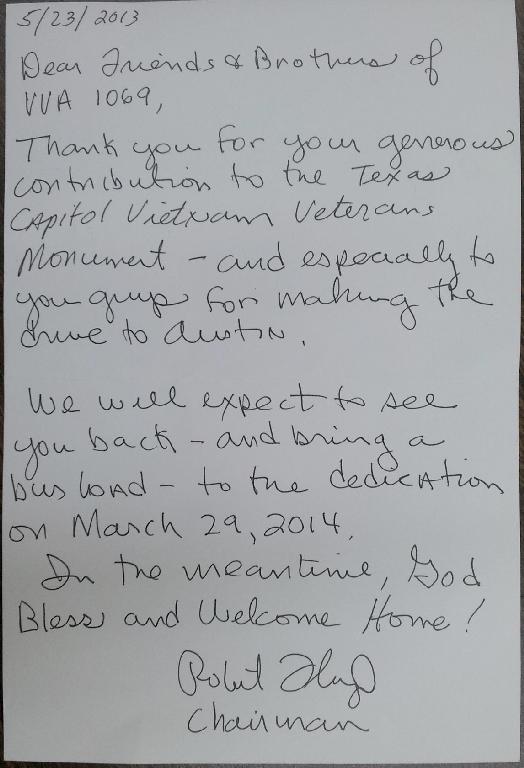 The contents of the letter are shown below:
5/23/2013
Dear friends & brothers of VVA 1069,
Thank you for your generous contribution to the Texas Capitol Vietnam Veterans Monument, and especially to you guys for making the drive to Austin. We will expect to see you back - and bring a bus load - to the dedication on March 29, 2014. In the meantime, God Bless and Welcome Home!
Robert Floyd - Chairman
More detailed information about the Texas Capitol Vietnam Veterans Monument (located on the Capital grounds in Austin Texas) can be found at the TCVVM website homepage link below.