Army

June 14
Navy

October 13
Marines

November 10
Air Force

September 18
Coast Guard

August 4
| | |
| --- | --- |
| | Welcome to our website! We are a local chartered chapter of the Vietnam Veterans of America (VVA), which is a national Vietnam Veterans service organization, and that is sanctioned and chartered by the U.S. Congress. There are over 650 VVA chapters and 48 VVA state councils across the country, with over 65,000 individual members. The VVA membership includes Vietnam Veterans from all branches of the Armed Services and includes the Army, Navy, Marines, Air Force & Coast Guard. Shown at the left is our official custom chapter logo. Many thanks to chapter member James Kulcak, for designing the logo. |
| | |
| --- | --- |
| | This VVA chapter was organized in the summer of 2012 by several Vietnam Veterans who live in El Campo, Texas. The chapter was officially formed in July of 2012. The chapter received its official charter in December of 2012. Its current membership size is 80+ members, representing all branches of the armed services. Homebase for the chapter is El Campo Texas, with many of its Vietnam Veteran members coming from the surrounding counties, such as: Wharton, Brazoria, Jackson & Victoria, and includes the Texas towns of: El Campo, Ganado, Louise, Hillje, Wharton, East Bernard, Eagle Lake, Victoria, Cypress & others. |
CLICK HERE to read about the Chapter's Formation Ceremony, held in July of 2012
CLICK HERE to read about the Chapter's Charter Presentation Ceremony, held in December of 2012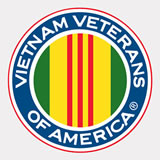 The official VVA Logo is shown above. The national VVA organization was founded in 1978. The Vietnam Veterans of America is the only national Vietnam veterans organization congressionally chartered and exclusively dedicated to Vietnam era Veterans and their families. VVA is organized as a not-for-profit corporation and is tax-exempt under Section 501(c)(19) of the Internal Revenue Service Code.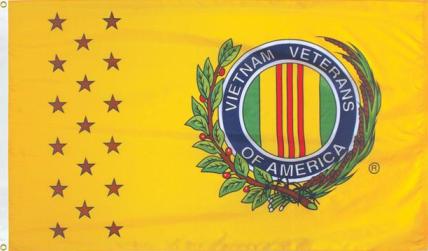 The official VVA flag is shown above. The seventeen brown stars are arranged in three vertical rows which represent the seventeen official campaigns of the Vietnam War. The VVA insignia is centered between the campaign stars and the "fly" of the flag. The symbol incorporates the colors and stripes of the Vietnam Service Ribbon which was awarded to all men and women who served in Southeast Asia during the qualifying periods for the award and includes the contiguous waters or air space thereover from July 4, 1965, through March 28, 1973. The insignia is surrounded by a wreath which contains a laurel branch and a sheaf of rice stalks. The two are tied together at the base with a strand of black barbed wire. The laurel signifies honor to all who served in SouthEast Asia and the rice represents Southeast Asia. The black barbed wire represents the POWs and MIAs who are still unaccounted for.
The VVA'S Founding Principle is:
"Never again will one generation of veterans abandon another."
The VVA's goals are to promote and support the full range of issues important to Vietnam veterans, to create a new identity for this generation of Veterans, and to change public perception of Vietnam Veterans. To learn more about the VVA, click on the link below to visit the VVA National website.